Welcome to Altitude Animal Hospital's first blog post, we are so glad to have you here. We have been working hard to make Altitude Animal Hospital everything that you and your pet deserve. We are a full-service, state-of-the-art, animal hospital, providing veterinary care for dogs and cats in our community. This is a crazy time to be starting a new business, but we want you to be confident that when you bring your pets to Altitude Animal Hospital, they will be treated like family. We will listen to your concerns and together, we will provide your pet with the very best veterinary care.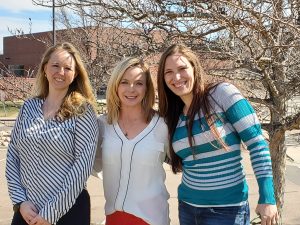 A little bit about us, Altitude Animal Hospital is owned by Dr. Karen Todd and Michele Carpinello, CVT. Dr. Todd and Michele have worked together in the veterinary field for over 17 years and are so excited to start this business together. Both are Colorado natives and love everything about Colorado. They bring their years of veterinary experience to Altitude Animal Hospital to provide your pet with the quality of veterinary care that they deserve.

We understand that your pet is a family member, and it is important to have complete trust in your veterinary team. We will work hard to earn your trust through honest communication, quality veterinary care, and listen
ing to the concerns you have for your pet. We will love your pet like our own and provide them with the very best veterinary care.

We are opening our doors May 4, 2020. We were slated to open a bit earlier, but as you can imagine, COVID-19 has made this a bit of a challenge.

Lets jump right into some of the concerns you must be having right now regarding your pet and COVID 19, and how we plan to help you and your pet through this. COVID 19 is not transmissible to pets, nor can your pet transmit COVID 19 to you. That being said, when we meet with you and your pet, we will practice safe handling practices to protect all of us. Here are two options available at this time for medical care for your pet. Once restrictions are lifted, and it is safe for us to interact personally, we will welcome you into our facility with open arms. For the time being, our facility will need to be staff and patients only.

In Person Appointments
When you call to set up your appointment, we will get as much information from you as possible to determine the best way to help you and your pet. When your pet comes in for their appointment, we will follow these steps:

-Call us when you arrive 303-619-5191.
-If your pet's temperament allows, we will have you leave your pet in our vestibule. For dogs, we will have a hook on the wall to which you can attach their leash. We will be standing right on the other side of the vestibule and will grab their leash as soon as you leave. For cats and small dogs, please place their carrier inside of the vestibule, a
nd we will grab them as as soon as you depart. If you feel like either of these scenarios will be stressful for your pet, please let us know and we will work with you to figure out the most comfortable way for all of us to interact with your pet.
-Once we have your pet inside, you can return to your car, we will again call you to discuss your concerns regarding your pet. We can keep you on the phone, while we examine your pet. After our exam and discussion with you, we will work with you to formulate a plan for your pet's treatment and care.

Telemedicine
Telemedicine is a way for us to video chat with you and your pet and do a virtual physical exam. There are some restrictions regarding who and what cases we can see via telemedicine. Please call us and we can help you determine if this is the right option for you. To schedule a telemedicine appointment, please call our regular number, 303-619-5191. We will schedule a time for you to meet with Dr. Todd and then send you a link for the appointment. There is a fee for our telemedicine appointments, and through our secure platform, you will be able to pay with a credit card prior to the appointment. If it is determined through the course of your appointment with Dr. Todd that she needs to see your pet in person, your telemedicine fee will be credited toward your in-person appointment.

As you can imagine, there are limitations to what we can evaluate with your pet without a hands on exam. When you call to schedule your telemedicine appointment, we will try to help determine if this is something that can be seen via a telemedicine appointment or if we think an in-person appointment will be best.

We look forward to welcoming you to Altitude Animal Hospital, where your pet will be treated like family.